Meet Moyra Jean Stiles
,

CNTP
Cornerstone's Nutritional Therapist partners with individuals toward meeting goals for improved personal well-being.
She works with data gathered through interviews, lab work and questionnaires to develop individual reports including recommendations, food lists, meal plans and resources for improved health.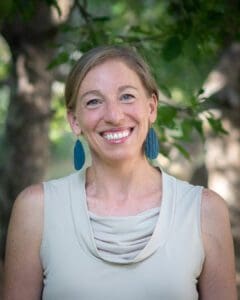 Among the care Cornerstone patients receive:
Comprehensive nutritional assessment,
Laboratory assessment of nutritional deficiencies,
Personalized diet and lifestyle recommendations,
Continuing education through on-site workshops and online learning tools
Resources and tools to empower and sustain long-term well-being
Moyra thrives in being given the opportunity to guide individuals through the development of personal goals toward the establishment of lifestyles full of well-being and vitality.
Recognizing that nutrition and lifestyle changes take education, time and community, she enjoys supporting and coaching as much as she enjoys listening and learning in the process.
Moyra shares her life in Denver with husband Travis and their three boys.