Review of Joy Garcia's Cook Once, Eat All Week Cookbook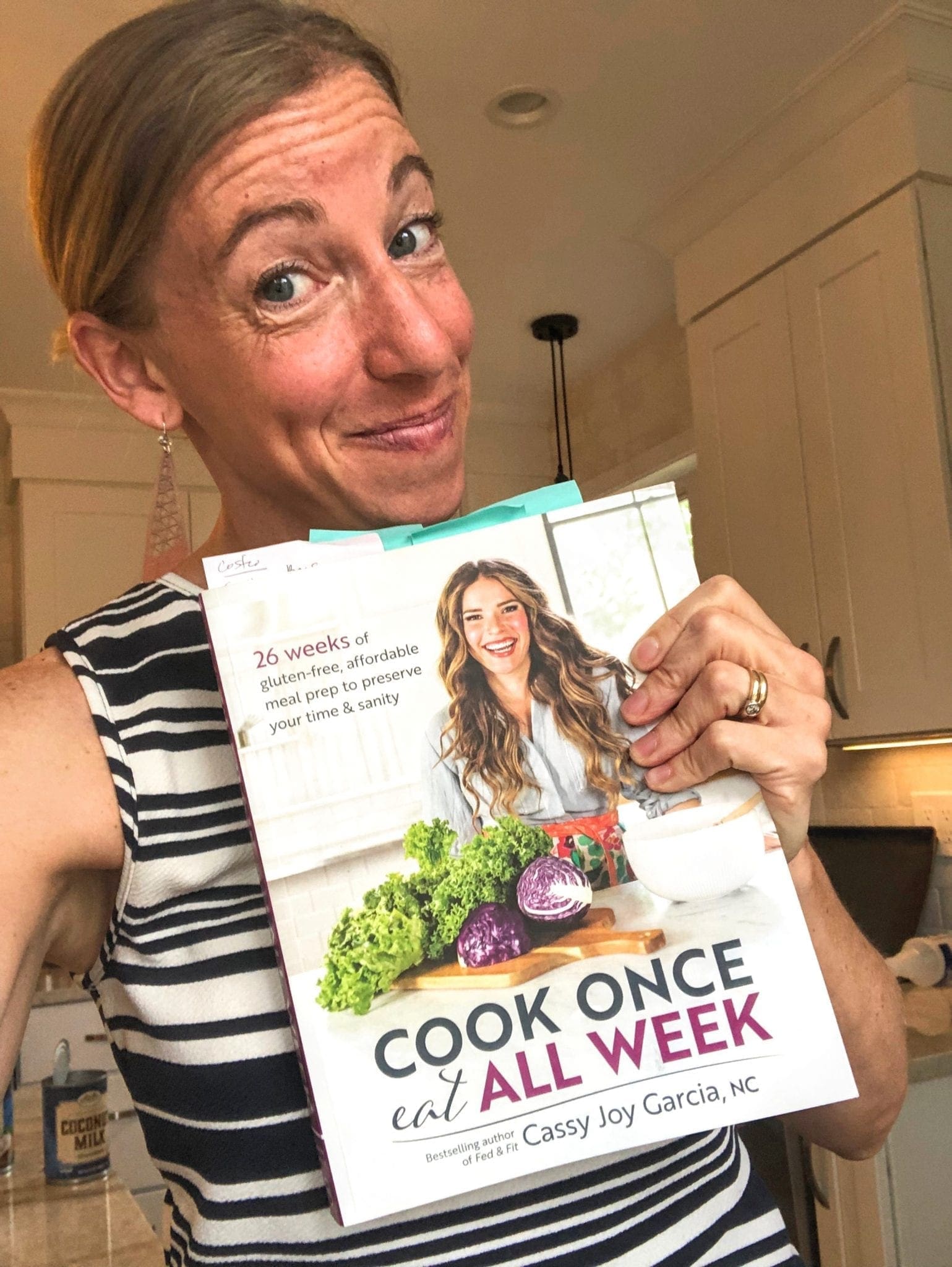 Nope. Nutritionists are not looking to spend additional hours in the kitchen just because they vocationally revolve around food. Just like everyone else, we are looking for shortcuts, life hacks, and magically delicious and nutritious food to emerge from a minimally messed up kitchen after short periods of committed cooking time. I am with you on this quest.
Is this too much to hope for?
Well, apparently Cassy Joy Garcia hoped hard for all of us and cracked the code folks. I am not even kidding.
Her cookbook Cook Once Eat All Week is THE JAM. Prepare yourself for a cooking (and smiling) revolution!
It appears she has been on a very similar journey as my family. We have worked for years to twist and turn our way through multiple food frameworks in order to find what works and what does not work for us. In the process, we have needed to do very strict elimination diets trimming us down to narrow food options and then doing the re-introduction work in order to find our broader and more sustainable eating rails.
Our core framework is anti-inflammatory/Whole 30/Paleo/Ancestral – this is removing grains, dairy, legumes, soy and keeping to healthy fats and oils with minimal sugar. We have learned that we can, with that as our core, have moderate amounts of dairy, some grains (never gluten), some legumes and some soy while keeping processed foods and sugars at a minimum.
Garcia's cookbook lives in this space.
You open up the cookbook and it starts right away talking about the importance of "Real, Nutrient-Dense Foods" and then gets into replacing highly processed oils with nourishing fats, buying organic when possible, eating balanced meals of protein, veggies and healthy starches while paying attention to and eating what works "Best for your Body" – Yes! Yes! Yes!
The book is organized into weeks of dinner plans. Twenty-Six weeks, actually! You understand that this is HALF OF A YEAR of meal-planned dinners for us lucky readers?!? She asks how many people we are cooking for and how many meals we are looking for.
For example, are you looking for three fresh dinners a week for four people? Then here is your equation. Oh, wait – do you want five fresh dinners and fifteen leftover servings for three additional dinners (for the whole family), lunches, or the freezer? Then here is your equation. She works with our family size, our rhythm of eating in or dining out, our desire for leftovers and just generally makes it work for however we live our lives. Remarkable!
Unlike other meal prep, batch-cooking models – this isn't the work of making a massive batch of soup and then eating that soup for dinner every night of the week. This is the work of taking key components of the week's meals and, from those key components, building different meals entirely different from one another. Garcia does a great job of diversifying the meals of the week so that we are visiting entirely different cuisines from evening to evening.
Let me show you:
Each week, she designs the plan to make three different dinner meals. Every dinner revolves around a protein, a veggie, and a starch. She then offers two weekly bonus dinners "so that a family can enjoy a fresh dinner five nights a week with minimal additional effort". The basic recipes for these Bonus Dinners are simple (four or five ingredients and three to four steps each) with recipes laid out in the back of the cookbook for mixing and matching. I have found that I often have ingredients floating around in my kitchen and then just match them to the basic Protein, Veggie and Starch Recipes for easy fixing.
The week I'm documenting, the three core components were: baked chicken breast, bell peppers, & spaghetti squash.
I was able to shape these three components into Sweet-and-Sour Chicken Chow Mein, Chicken Souvlaki Bowls, and Chicken Tetrazzini. What?! That Diverse?! Yup!
Want to know how the magic happens? Here are the basic steps in Cook Once, Eat All Week.
Step 1: Choose a Week and Number of Servings
Step 2: Go Shopping and Pantry Gathering
Garcia spells out the weekly ingredients to give you a grocery shopping and pantry-checking list to prepare. In the margin she always has an "Ingredient Sub" set of lists: "To Make this Week Paleo" – "To Make this Week Grain-Free" – To Make this Week Dairy-Free". For those of us needing this tighter framework, it is a most excellent resource! If you don't want to make homemade sauces, it's ok to substitute store-bought options.
Step 3: Prep the Components
Follow the prep day instructions. Garcia lays out a play by play prep day plan with a preface explaining what you are going to be making and the order of what you should start first (get the chicken baking before you start making sauces to make the best use of your time).
Cooking, baking, chopping, prepping and storing for this particular week's meal for five people eating 3 fresh dinners + 9 leftover servings for additional dinners, lunches, or the freezer took me two hours and 15 minutes.
Step 4: Make the Recipes
On the day you are ready to eat the dinner, make the dish with the prepped and cooked components from prep day.
Step 5: Store the Leftovers
She has a "Meal Storage and Reheating" Guide in the cookbook. She has overlooked nothing.
Here's what it all looked like when I Prepped and Cooked Week 13 out of the book: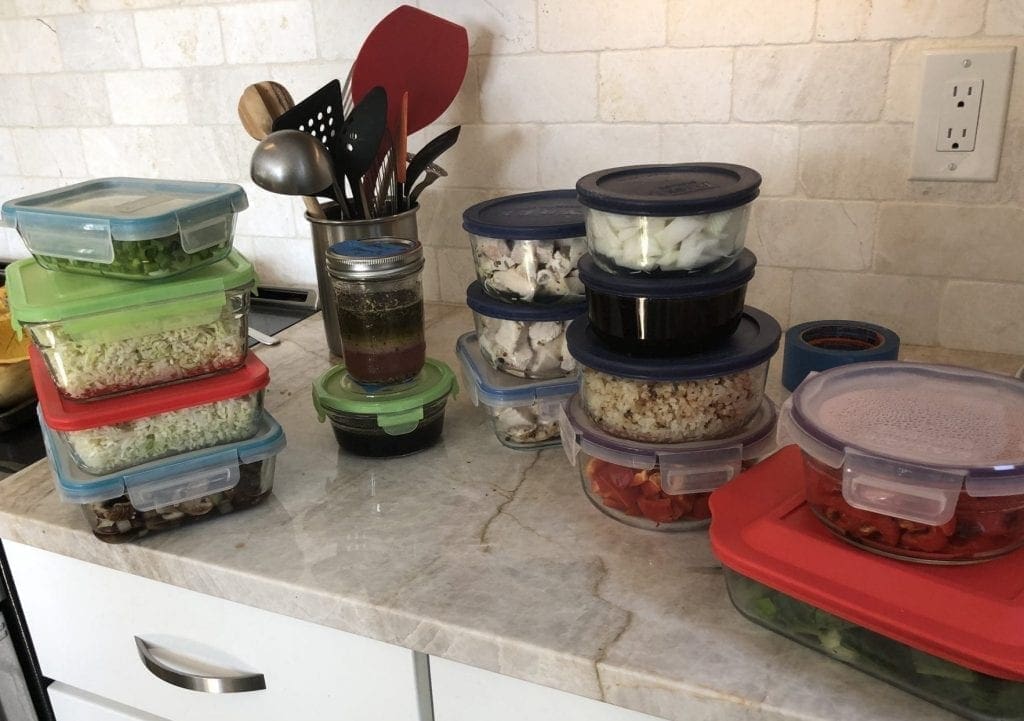 Step 6: Rinse and Repeat
Review the 26 weeks she has offered and choose what you will do next!
This approach saves money:
You purchase your ingredients in bulk while reducing waste ("no recipe calls for half a bell pepper – or, if it does, the other half of that pepper will be used in another recipe that same week").
Weeks are written with seasonality in mind – ingredients should be easily sourced during the same season of the year.
This approach saves time:
• Preparing your basic components in advance allows you simply "build" your dinners on the actual nights of eating the meals.
Variety
Only one soup a week
Only one casserole a week
One sheet pan recipe a week
No food boredom!
Dietary Requirements Addressed — Icons throughout the book for:
Low-Carb
Paleo
Grain-Free
Dairy-Free
Egg-Free
Nut-Free
Kid-Friendly
I cannot recommend this book more highly. I am a person who does not like to be pulled into any kind of activity that I have to do the same way forever. So, I am not saying that I will live by Cook Once, Eat All Week. I have far too many other cookbook loves, online go-to's, and easy solutions in my toolbox. But, this book is now square in the center of my toolbox and something I will be recommending to the clients I work with here at Cornerstone.
Happy Meal Prep and Cooking!
Warmly,